Our kids are fighters.
Just this last week, Caleb pulled through an incredibly complex 14-hour heart surgery. And with each passing day, he's growing stronger and stronger. His surgeon told us there are only about 100 known cases of Caleb's particular congenital defect around the world, and our little Caleb pulled through with flying colors.
Or take Philip; after about 6 months in a half-body cast, his unstoppable spirit and unquenchable joy didn't suffer. Despite his ordeal, he still approaches each day with a fierce determination that inspires everyone on our team.
The stories could go on and on. We are blessed beyond measure by the children's hope, confidence, resolve, and determination. When we watch them fight, we often find what we need to dig a bit deeper and fight harder ourselves. We know they inspire you similarly.
Scott Kellogg has taken that inspiration and turned it into a big goal. He's participating in a triathalon later this month and
raising money for New Day Foster Home
as he participates in "The Ironman - a grueling 140.6-mile journey consisting of a 2.4-mile swim, a 112-mile bike, and a 26.4-mile run. All must be completed in 17 hours for athletes to earn the coveted title of Ironman."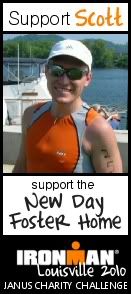 He still has a ways to go before reaching his funding goal. Would you help spread the word and consider sponsoring him in his efforts? You can download the button for your blog by clicking on the link in the right column. And, you can spread the word through facebook, twitter, and among your friends. Together, we can help Scott raise $5,000 for our little ones... we think he has the best inspiration of all.